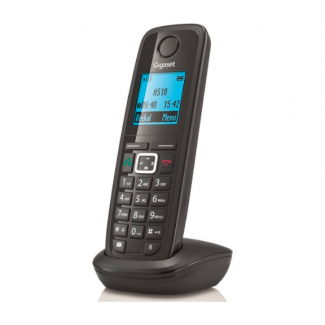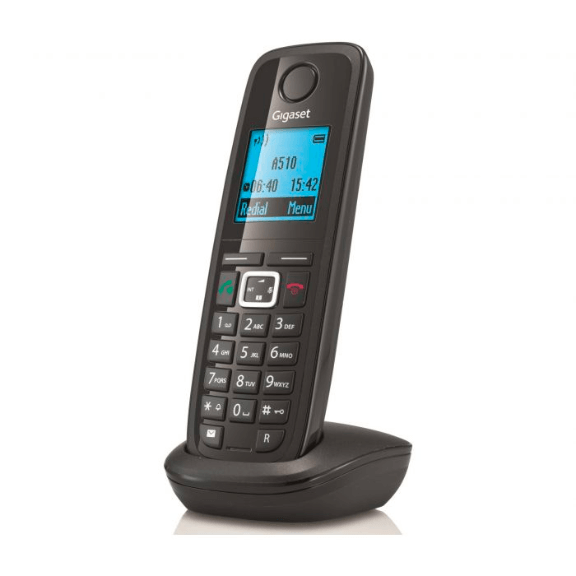 Gigaset A510H
A great value handset option with a sleek look and smart features
Enhance your Gigaset phone with the stylish Gigaset A510H, the best-value handset that fuses attractive form and essential functions. Its 1.8" display, illuminated by a backlight, is easy to read and navigate.
NB. RRP. Must be used with a SIP enabled DECT base.
Gigaset A510H Overview
There are 4 different colour backlights to choose from – allowing you to select the look you prefer. Conversations are a pleasure on the Gigaset A510H, reaching you in brilliant HSPTM sound quality. Easily adjust the volume while you talk in hands-free mode. You also save energy with the Gigaset A510H, which offers a low power consumption of <0.4W as well as ECO Mode Plus with no radiation.
For an extra handset with practical functions and high-quality design, the Gigaset A510H is a very good option.
Gigaset A510H Overview bullet list
Large, illuminated, 1.8" black and white display with 4 different colour backlights.
Eco Mode Plus with no radiation1 and power consumption of <0.4W
Voip and BT calls.
Long talk/standby time of up to 20/220 hours
Hands-free talking with adjustable volume
Customised ring tones and colour backlights for special contacts
20 selectable ringtones. 
Day/night volume settings on handset and base station
Enjoy the advantages of VoIP
The Gigaset A510H Handset truly raises the quality of telephony when supported by the Callagenix IP service. All VoIP calls come in HD sound, thanks to Gigaset's exceptional HDSP™ technology. And when IP calls are made to other IP phones, anywhere in the world, via Callagenix, the call is free.
ECO DECT: Pure energy savings and radiation-free
The energy-saving power supply of the Gigaset N300A IP consumes less electricity, so it's kinder to the environment, and kinder to users' wallets. Like all Gigaset base stations, it variably reduces the transmitting power from the handset to base station depending on their distance apart.
Users can also reduce the transmitting power of the Gigaset N300A IP by 80% simply by selecting the ECO Mode on registered handsets. Furthermore, selecting radiation-free ECO Mode Plus on registered handsets turns off the transmitting power when the base station is in standby.