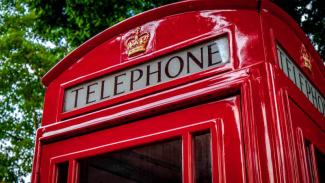 This morning this writer received a text. Supposedly from the water company it informed me that water pressure in my area was low and if I wanted further information I should press one in response to the message. Now it's true that water pressure in the shower had seemed a little low so the chances were that the message was genuine. But rather than press the response button I headed independently over to the website to check updates.
In this instance the message did come from water company but I have seen too many scam warnings over recent years to simply respond to any unexpected messages without checking first. This safety first attitude can in itself cause problems for genuine callers. For example, Ofcom have recently posted an article which addresses suggestions that scammers could disguise calls as apparently being from the NHS test and trace system in a bid to obtain personal or financial details from individuals.
Acknowledging that number spoofing is a possibility, the Ofcom article provides details of the only website which genuine test and trace callers will mention as being https://contact-tracing.phe.gov.uk. In addition, the article highlights the fact that genuine test and trace callers will never ask individuals to undertake a number of actions including dialling a premium rate number, handing over details of bank accounts or social media passwords, or purchasing a product including a test.
As Ofcom says in its article "phone companies are working hard to make it difficult for scammers to make these calls." But organisations too can take action which will help the people and businesses which they contact to identify genuine communications. Let's start by acknowledging that there are some messages which people already have good reason to believe will be genuine. These include SMS text messages to remind individuals of an appointment, or messages which confirm delivery details in respect of a recent purchase.
But what of other calls, ones for which the recipient whether they be business or individual has had no recent dealings with your organisation. Is complying with the regulations in respect of direct marketing and unsolicited telephone calls enough or could businesses do more?
In truth the answer will depend partly on your business sector. Nevertheless, there are ways in which you can help people to feel more confident about the genuineness of your call. For example, having details of previous interactions, including purchases, to hand could help to establish your identity. And then there are simple measures such as suggesting that people might want to check the phone number of the organisation via the website and then call you back in order to continue the conversation.
Offering a freephone number might help to encourage call-backs here. In addition refresher training in telephone techniques may help your people both to empathise with call recipients and to avoid some of the tactics most commonly used by scammers including pressurising people to make instant decisions.
The more that organisations practice good telephone techniques the easier it will be for people to not only spot potential scam calls but also to build up a measure of trust with the organisation, thereby potentially increasing the likelihood of future purchases. When people trust your call they are more likely to trust your organisation so helping them to keep safe could be a win-win proposition.